Sale!
TIME MASTER PRO YOUTH BUNDLE
AVAILABLE ON QUADPAY! Professional Grade Low Frequency Ultrasound with LED is an at-home treatment for skin tightening and wrinkle smoothing from the plumping effect of Ultrasound vibrating at 90,000 waves per second to activate skin metabolism and regenerate skin cells. Output is the same frequency as a laser device but the energy is low so it does not damage the skin like the heat from a laser. Time Master PRO works as the ultrasound waves cause a vibration of the surrounding skin tissues, known as "cascade of inter-cellular communication." It strengthens and lifts.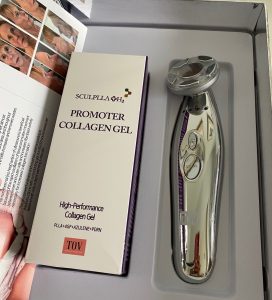 Device bundle includes:
TimeMaster Pro Device and Charging Cord
Sculplla Collagen Gel. Uniquely formulated ultrasound gel contains carefully selected ingredients to improve skin while working to ensure ultrasound energy penetrates into the deepest layer of skin. This is the perfect pair and conductive to the Time Master Pro Plus Device. This collagen gel known as "The Purple Gel" contains Azulene extracted from Chamomile. Azulene has antioxidants and anti-inflammatory properties. It is antimicrobial, anti-acne, and soothes irritated red skin.
Sculplla H2 Stem-Cell Mist The Sculplla Mist mimics a facial filler, filling in fine lines and smoothing rough texture. This beautiful spritz contains the collagen-promoting Poly L Lactic Acid. This is the plumping ingredient found in injectable fillers like Sculptra.
Sculplla H2 Repair Sun Cushion SPF 50 Sculplla Repair Sun Cushion helps to minimize all visible signs of aging while protecting against both harmful UVA and UVB rays. The natural tint gives sheer-light coverage that will adjust to fair-light skin tones. The cushion compact packaging allows easy reapplication throughout the day and is  packed with the same amazing active ingredient (Poly-L-Lactic Acid) in the Sculplla Mist & Cream that plumps skin, evens texture, and promotes healing & regeneration in the skin.
***Please visit our online store for information on warranty and contraindications for use before purchasing. https://eclat-clinical-esthetics.square.site/product/timemaster-pro-youth-bundle/