Medical vs Cosmetic Microneedling
WHY COSMETIC MICRONEEDLING IS BETTER, SAFER AND MORE COST EFFICIENT THAN MEDICAL MICRONEEDLING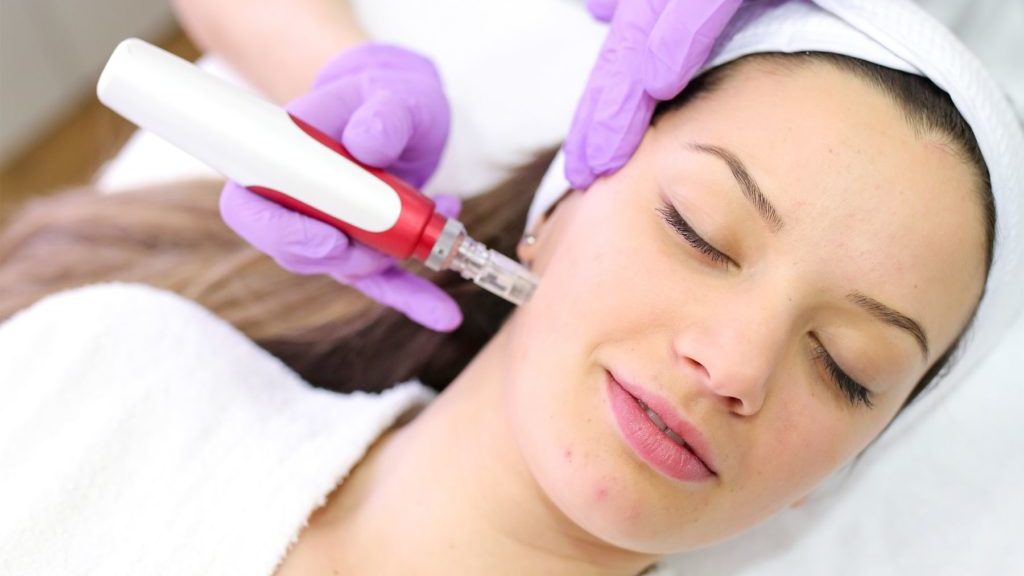 Cosmetic Needling vs. Medical Needling
There are two types of micro-needling: medical needling, which must be performed by a physician or medical professional under direct supervision of a physician on premises, and cosmetic needling, which can be done by a licensed skincare professional without a physician present. Both procedures lead to increased collagen production, improving the appearance of wrinkles and fine lines, but they carry different (yet similar) risks, costs and healing times.  Which one is right for you?
Medical Needling
Medical needling uses longer needles (.5 mm and longer) to stimulate the dermis, your skin's deeper layers. The longer needles (up to 2.5 mm) reach the deep dermis, making it effective for treating acne and other scars by breaking up scar tissue and inducing skin remodeling. Medical needling is an aggressive skin treatment and requires a medical grade topical numbing cream to minimize discomfort.  Contraindications to receiving a medical grade microneedling treatment include:
Collagen vascular diseases or cardiac abnormalities;
Rosacea and blood-clotting problems (blood thinners);
Active bacterial or fungal infection;
Immunosuppression; and/or,
Scars less than six months old
Healing time for medical microneedling averages 1 week and carries a greater risk of the following complications:
infection
skin pigment changes
reaction to topical medications used during treatment
facial fat atrophy, hollowing
Cosmetic Needling
Cosmetic needling uses short needles (less than .5 mm long) to fractionally stimulate the epidermis and upper-dermis, your skin's outer layers. Cosmetic needling can reduce the appearance of wrinkles and fine lines and can be combined with peels and microdermabrasion to improve acne scars.  Because cosmetic needling is less aggressive than medical microneedling, healing time and associated risks are lower.  Treatments can be completed with lighter topical numbing creams, or without any numbing for pregnant or lactating clients. Healing time is generally 48-72 hours, and a wider base of clients are eligible for treatment including immune suppressed clients, people with Rosacea, on blood thinners with scars less than 6 months old.  There is little to no risk of skin pigment changes or facial fat atrophy and infection is rare.
Choosing What's Best for You
Studies comparing the effectiveness of cosmetic and medical needling in treating wrinkles and other skin conditions in 44 women who had the treatments at least once a week. Objective measurements of wrinkles, pores, tone and pigmentation were used to determine the effects of various needle lengths, ranging from .2 to .3 mm (cosmetic) to .5 to 2 mm (medical). Results suggest that all needle depths produce some improvement on all measures, with an average of improving wrinkles by 26 percent and UV spots by 16 percent.
Why our Microneedling Sessions are so Successful
All of our needling treatments are done with an experienced medical esthetician and are combined with various other skin care modalities designed to reduce healing time and enhance your results! Our signature cosmetic microneedling treatments combine comfortable yet effective needling sessions with complete facials and include microdermabrasion, enzyme treatments, cooling hydrogel masks and LED light therapy.  Sessions may also be combined with hydrafacials and peels for even greater results, all at a price which is half of what you will normally pay for a microneedling treatment.
Read our reviews and book your microneeding treatment today!